For those of you following the blog, you know all about the living room rug dilemma.
In a nutshell: bought living room seating at estate sales. Bought zebra rug (new) intending to recover the sofa, but after learning that a reupholster job would cost big bucks (and after seeing that the sofa actually went well with the chairs and painting), we (I mean me. My husband was hands in the air on this one) decided to get a new rug.
Ta-da! Alright, I'm sorry for the crappy photo. Perhaps a less lazy blogger would have taken the two blankets off the sofa (that she JUST got through tucking in perfectly so the dog wouldn't completely junk it up during the remodel), but I didn't have it in me. You'll just have to imagine the sofa in full floral glory.
After spending hours and hours (I'm so not kidding. HOURS) on design websites and shops, and after consulting with a million people (okay, this time I'm exaggerating), decided on a 10 x 14 neutral hemp-wool blend rug by Safavieh that I found on Overstock. It's funny, many sites listed it as a jute-wool blend, but it is actually a hemp blend (is the hemp thing still that off-putting to some?).
Part of me wanted to go really eclectic and I came up with some options like this one from Serena and Lily….
and this one from Anthropologie (although I later saw it was a viscose blend, which I'd read negative things about) …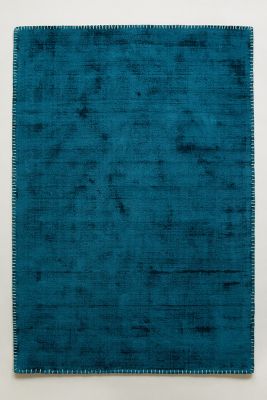 and a Persian-style one from One Kings Lane…
All of which may have worked fine (or possibly not), but I just wasn't willing to make such a bold leap, only to find out I was wrong. The thin stripes on the new rug add a bit of excitement and the bumpy texture adds depth, which the room really needed.
And where is the fantastic zebra rug? In the little one's room. It looks perfect.
And so, the living room is finally done!……
Or is it!?!?!……
Stay tuned.